茜拉 《真。炫色》 世界巡迴演唱會 柏斯站
Shila Amzah Colorful World 2016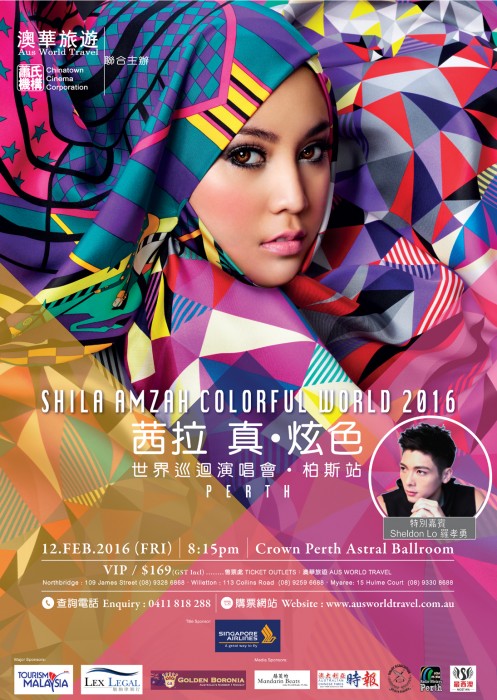 來自馬來西亞的國寶級歌手茜拉 Shila Amzah, 在澳華旅遊及蕭氏機構誠意邀請下, 將於猴年正月初五首次走進澳洲舉辦個人世界巡迴演唱會 – 茜拉《真。炫色》世界巡迴演唱會 – 柏斯站, 和柏斯的觀眾們一起慶祝農曆新年的到來。
出身自音樂世家的茜拉, 10歲的時候已經發行了第一張唱片. 2012年, 參加中國東方衛視《聲動亞洲》獲得亞洲多個國家的評委和選手的讚嘆, 贏得冠軍並獲得馬來西亞首相的稱讚。2013年10月習近平主席出訪馬來西亞的, 茜拉代表馬來西亞文藝男人士向習近平主席獻唱, 獲得高度評價。2014年茜拉參加《我是歌手》第二季勇奪季軍,多首翻唱歌曲如《想你的夜》、《最長的電影》、《Rolling in the Deep》等廣被中國觀眾熟知。2015年4月正式定居香港, 進軍中國香港樂壇。
茜拉《真。炫色》世界巡迴演唱會-柏斯站, 將以獨特外型、歌聲及精湛演出震撼人心。茜拉已做出一切準備, 以變化萬千的演出, 讓樂迷們感受她的 "Colorful World".我們一起期待2月12日茜拉《真。炫色》世界巡迴演唱會-柏斯站, 感受她精彩絕倫的真我本色。
茜拉是次演出,也得到了柏斯皇冠賭場以及馬來西亞旅遊局的鼎力支持.
澳華旅遊及蕭氏機構聯合主辦茜拉《真。炫色》世界巡迴演唱會–柏斯站信息如下:
時間: 2016年2月12日 (正月初五 星期五)
場館: Crown Perth Astral Ballroom
票價: VIP / $169
查詢電話: 0411 818 288
查詢網站: www.ausworldtravel.com.au
Shila Amzah Colorful World 2016 Perth
Aus World World Travel and Chinatown Cinema Corporation have invited National treasure singer from Malaysia, Shila Amzah, to celebrate the Lunar New Year, the year of the Monkey. This will be her first foray into the Australian solo world tour – Shila Amzah Colorful World 2016 Perth with full support from Crown Perth, Singapore Airlines, Tourism Malaysia and other local major sponsors such as Lex Legal and Golden Boronia. Coming from a musical family, Shila released her first album when she was 10 years old. She participated in "Asian wave" a chinese reality singing talent show held in Shanghai, China in 2012 and had won high praises by judges, other contestants and also by the Prime Minister of Malaysia. Shila was also a cultural ambassador as she sang for President Xi Jinping in October 2013, when he visited Malaysia. In 2014 Shila participated in " I Am a Singer " contest and won the third place in the second quarter by singing cover songs such as "Xiang Ni De Ye," originally sung by chinese pop star Guan Zhe and "Rolling in the Deep" and other widely known songs for the Chinese audience. She formally settled in Hong Kong in April 2015 and went into China Hong Kong music scene.
We look forward to February 12, Shila Amzah Colorful World 2016 Perth , to see her fantastic character in person especially her unique appearance, singing and superb stirring performances. Shila has been busy making preparations for her ever-changing performances so that fans can feel her "Colorful World"..
Shila Amzah Colorful World 2016 Perth, joint promoted by Aus World World Travel and Chinatown Cinema Corporation informations are as follows :Venue: Crown Perth – Astral BallroomDate: Friday, 12 February 2016 Time: 8:15 PM
Price: VIP / $169
Enquiries: 0411 818 288 
Website: www.ausworldtravel.com.au